The planning for the Tax Day Rally on April 15 is well underway. We are so excited about the program. With Doc Thompson as our master of ceremonies, Charles Payne of FOX News as our headliner, and many other fantastic rally speeches scheduled, it is going to be a fantastic day.
Unfortunately, it all costs money. We have been very blessed to have so many patriots reduce their prices and donate services, but we still have some bottom line costs. Remember, we are 100% volunteer, so all this money goes to actual costs.
Charles Payne has offered to do a fundraiser for RTP the night before the Tax Day Rally, to help us pay for the big day. We hope to have 400 people! We need you to come and bring a friend. Try and fill an entire table and be a Patrick Henry Sponsor! Here are the details (click image below):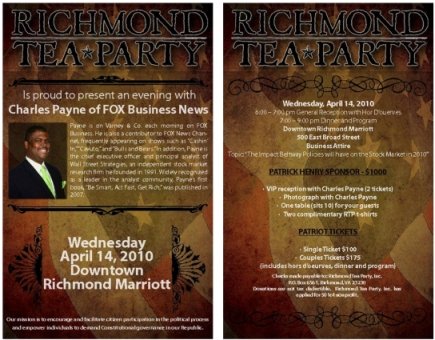 PATRICK HENRY SPONSOR – $1000
• VIP reception with Charles Payne (2 tickets)
• Photograph with Charles Payne
• One table (sits 10) for your guests
• Two complimentary RTP t-shirts

PATRIOT TICKETS
* Single Ticket $100 (includes Hors d'oeuvres, dinner and program)
* Couples Tickets $175 (includes Hors d'oeuvres, dinner and program)
Purchase your tickets HERE.

Checks made payable to:
Richmond Tea Party, Inc.
P.O. Box 6561, Richmond, VA 23230
Donations are not tax deductible. Richmond Tea Party, Inc. is a non-partisan, non-profit organization. We have applied for 501c4 status with the IRS.